Preparing your floor for underfloor heating is highly important, failing to prepare your floor thoroughly may cause problems in the system later down the line. This guide is for solid floors only
Step 1:
Clean the area of all debris and dirt.
Step 2:
Fit the insulation boards neatly and stable ideally with all gaps and joints taped. Sand or similar can be used beneath the boards in places of movement. See pictures below.


Step 3:
If using liquid screed, a membrane of between 500 and 1000 gauge must be laid as crease/fold free as possible with all joints taped and no gaps. The membrane should lap up the wall by approx 100mm with the corners folded/cut/taped neatly. See pictures below.


Step 4:
Perimeter insulation should be fitted around all walls (also over the 500 gauge membrane if applicable). If using liquid screed, pull the plastic skirt out and tape the skirt to the membrane. Tape all joints in the membrane. See pictures below.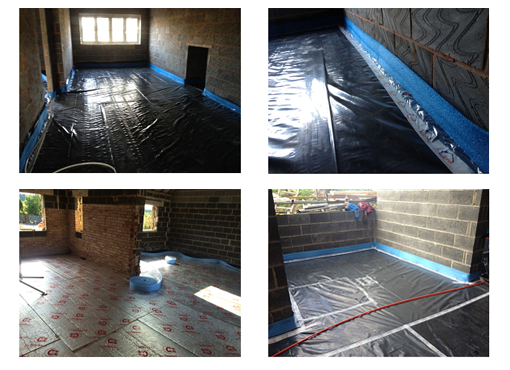 Step 5:
If pipe is to be routed through walls, there should be a suitably sized hole(s) for this with conduit around the pipe to protect it. You can use expanding foam or similar to fill afterwards. See picture to the right.


If you have any issues with your floor preparation, email us at sales@underfloorheating1.co.uk or call 01302 276199.